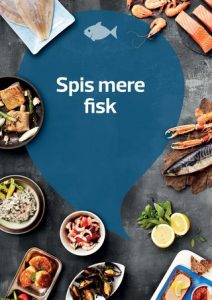 Vi er blevet lidt bedre til at spise fisk de seneste år, men vi skal gerne spise meget mere.
Fisk og især fed fisk indeholder blandt andet fiskeolier, selen, jod og D-vitamin, som kroppen har brug for, og som er svære at få nok af fra andre fødevarer.
Når du spiser fisk flere gange om ugen, så har du mindre risiko for at få hjerte-kar-sygdomme sammenlignet med personer, der sjældent spiser fisk.
Miljø-og Fødevareministeriet anbefaler følgende:
Spis fisk mindst to gange om ugen som hovedret og flere gange om ugen som pålæg.
I alt skal du gerne have 350 gram fisk om ugen. Heraf ca. 200 gram fed fisk som fx laks, ørred, makrel og sild.
Kvinder, der planlægger graviditet, er gravide eller ammer og børn i alderen 3-14 år bør ikke spise udskæringer af de store rovfisk, da de kan have et højt indhold af kviksølv.
Læs hele artiklen på AltOmKost.dk
I Sense bruger vi hver især vores sunde fornuft. Vi råder til at spise et varieret udvalg fra alle kategorier.